Catalog on Demand® (CoD) is a highly advanced technology that allows merchants and site visitors to self-publish custom downloadable PDF catalogs from the product data already in their store.
Did you get that? Let's go over it again slowly in case you don't believe what you just read...
This new feature will allow ProductCart merchants and their site visitors to publish on-demand custom catalogs and flyers, any time they wish, and referencing any of the store's products that they desire.
On-Demand Site Visitor Publication Formatting Options
Catalog On Demand® is a new and exciting service with plenty of power today, and many future improvements already under development. Among those improvements will be new LayoutPaks™.
The following LayoutPaks may currently be used in order to present "site visitor / on-demand" publications: Madrona, Pistachio, and Acacia.
Madrona: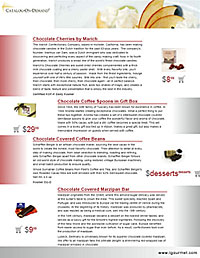 Pistachio: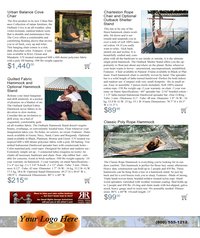 Examples of Madrona used with ProductCart stores may be viewed here and here. Be sure to click on the product images and shopping cart icons to see how your site visitors will be able to click back to your web site when viewing the custom flyer.
Depending upon which TemplatePak you chooose, each may be tailored to suit your own messaging and color preferences.
You company's logo will appear in the left side of the header and in the contact information box on the final page.
For example, in Madrona, you may provide your own: lifestyle image which will appear in the right side of the header.
An optional headline message may appear in the right side of the header, in lieu of or in addition to the above-referenced header image.
The color scheme for the alternating rows and the optional headline message in the header may be altered to meet your needs.
An optional message (closing sales pitch) may be provided which will appear on the final page of the publication.
Wow... Imagine the possibilities!
Watch this video to learn how easy it is for site visitors to use this exciting new feature!, and then check out these sites that are using it:
Integrated with ProductCart versions 3.12 and beyond, this new feature offers almost endless potential.
From the site visitor's perspective:
Products appearing on pages such as the category or search results pages, or those appearing in the saved cart (wishlist), may be published to a PDF with the click of a button. Minutes after submitting their request, the visitor will receive an e-mail with a link to their requested PDF catalog.
From the site administrator's perspective:
The potential is even greater. Using this add-on, the merchant is able to export their product data to CoD's online database.
Within CoD's web site, the merchant may select product data for inclusion into a custom catalog. Depending upon which LayoutPak™ the merchant selects, flyers and catalogs may be published in a matter of minutes!
---
PDF-e-Links™:
Each of your products will contain a clickable link, allowing your potential customer to click directly to the product page in your web store.
PDF-e-Link™ reports:
Need analytics? We've got you covered! Catalog On Demand allows you to run reports listing the number of downloads of each publication, clicks per product, which products were selected for publishing, and much more.
---