ProductCart Modification:
Customer Consolidation Manager
Merchants who use ProductCart's Guest Checkout feature may discover that they end up with multiple customer records having been created for the same e-mail addresses. ProductCart already features a tool that allows individual accounts to be consolidated via the customer administration screen, but you must have identified a customer as having multiple records, drill into their customer record via customer admin, and process them. That is not efficient if you have a lot of customers to deal with!
In response to client requests, we created a specialized tool which allows the merchant to quickly identify and consolidate those customer records. As you consolidate customer data to the target record of your choice, you may optionally delete the remaining customer records. All prior orders are consolidated to the target customer account.
(In the images before, for the sake of privacy, all e-mail addresses are removed. In production, those images will obviously appear.) Click each images for an enlarged view.

Here is the first screen. This is where all customers currently eligible for consolidation will appear. They are sorted in e-mail address order.

After clicking on the "consolidate" link for a customer, all customer records for that e-mail address will appear here.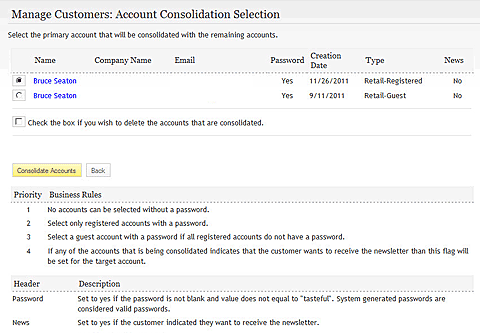 Once the customers have been consolidated, this screen will appear.