Click here for ProductCart Modifications and Add-ons
ProductCart shopping cart software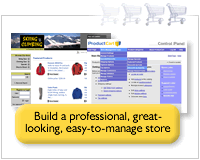 Build a professional online store with Early Impact's ProductCart e-commerce software
ProductCart is a line of shopping cart software used by businesses like yours to build and manage profitable Internet stores. Successfully selling online requires high quality e-commerce software, and ProductCart is one of the most powerful shopping carts available today. And don't take our word for it: check out these sample stores, or read some customers' testimonials.
Take your online business to a new level. Boost sales, run promotions, reward loyal customers. It's time for serious e-commerce. Get started today >>
ProductCart ASP Shopping Cart

Powerful asp shopping cart for your online store
Early Impact's e-commerce software is used all over the world to build and manage professional Internet stores. As one of the most comprehensive e-commerce systems available today, ProductCart combines a long list of features with intuitive management tools that make it easy for anyone to build and manage their online storefront.
Learn about why so many businesses like yours have chosen to use ProductCart for selling their products and services online. More on Early Impact's e-commerce software | Demos | Case Studies | Real Stores
ProductCart Build To Order

A shopping cart and a product configurator combined
ProductCart Build To Order is a unique e-commerce system that combines the functionality of an online quoting program, product configurator and shopping cart software. It allows businesses to quote and sell complex products and services from their Web site.
ProductCart BTO is the ideal solution for any scenario in which customers personalize what they are buying (custom computers, Web hosting, catering, printing services, custom furniture, industrial machinery, ...). More on the Built To Order e-commerce system | Demos | Real Stores
Getting ready to sell online?

We have created a series of articles and tutorials that will provide you with useful information as you get closer to making a decision on which e-commerce program will work best work for you.

Choosing the right shopping cart

As you are likely experiencing yourself, selecting the right e-commerce software can take a long time. The lack of objective shopping cart reviews doesn't help.

We don't offer a comparative analysis between ProductCart and other shopping cart programs because we feel that such comparisons are only credible when they are published by an independent party.

However, to help you in the process of comparing different programs, we have put together some tips on how to review and compare shopping carts. Do not hesitate to contact us if you have any questions.